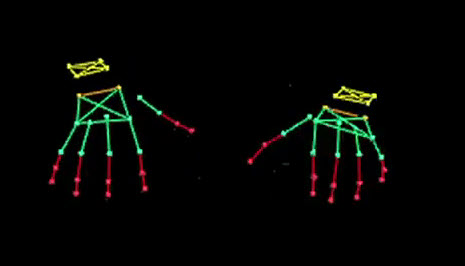 Hand & Wrist Kinematic Measurement (HAWK) Overview
A comprehensive kinematic measurement technique has been developed to measure all the degrees of freedom of the wrist, hand, fingers and thumb. This technique has been validated for accuracy and reliability, and has been applied in many different interdisciplinary projects in order to further our understanding of the strategies of movement adopted in various aspects of hand function.
The Science of Music
HAWK is currently being applied to the hands of musicians while they are playing! Using the unique algorithms within HAWK, we can analyse technique, use HAWK as a teaching tool and provide a precise analysis of playing styles to instrumentalists that has not previously been possible.
Interacting with Sculptures
Our collaboration with Winchester School of Art, PhD student Ben Jenkins uses motion capture to help understand how people interact with sculptures.
Kinect for Rehabilitation
Using the Microsoft Kinect, our team has developed a way of tracking hand movement and measuring finger joint movement in real-time. This project is a collaboration between the University and Roke Manor Research Limited.